DAB Data Channels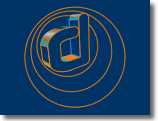 We offer an end to end service for DAB data channels. From initial design and implementation, through construction and testing to finally launching the service, we will assist our clients all the way. Taking their ideas to air on any DAB Multiplex is our mission. Our software can manage with static information and dynamically updated information from a variety of sources, such as web sites and other FTP servers.
Click here to visit the Digizone web site
Electronic Programme Guide
(EPG) Server
Our EPG server is an easy way to upload and create DAB Digital Radio scheduling information, all through a web-based interface. The EPG generator can create, parse and upload radio Electronic Programme Guide information very quickly and with the minimum of effort. Whenever new programme information is generated, it can instantly be accessed by EPG enabled receivers.
ManDLS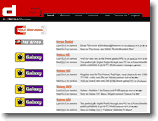 Using a web-based interface, you can create and schedule Dynamic Label Segment (DLS) text within minutes. Using our dynamic information system, the DLS text can include the track playing information, news, advertising and sponsorship messages or personalised presenter messages. Accessible via the Internet, the results are visible on DAB Digital Radios in seconds.
The Arc
The Arc is a place to store valuable information and then allow it to be shared with other users who have access rights. Accessed via a website front-end, it's where you can store your news or media files in multiple formats. It contains powerful user login and security functions with detailed logs of all users' actions. We have also developed skinned versions of the Arc for The Ideal Home show and a syndicated Entertainment News service.
Click here to visit the entertainment news site
Deliver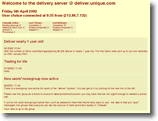 Deliver is a software solution that allows the delivery of content (text, images, audio, video or other) directly to either a website or to other external servers running applications such as websites, play-out systems, desktop publishing software or any other conceivable application that could use the content. The delivery takes place either over the Internet, or via a private circuit. Deliver takes the hassle out of multi-destination, multi-format content delivery by automating the transcoding and grouping the multiple destinations as one "destination" for the user.